Customers Who Viewed This Item Also Viewed
Description

Details

Name:

After Pregnancy Belly Corset

SKU:

AQS190092

Color:

Nude,Black

For people:

natural labour,Cesarean section,Pregnant women,Need to thin people.

Material:

Polyamide

Material composition:

Triacetate fiber (triacetate fiber) 80% Polyurethane elastic fiber (spandex) 20%

Fabric:

mesh yarn

style details:

lace

season:

spring, summer, autumn, winter

Breathability:

breathable

Elastic Index:

very good

Size Chart

| | | |
| --- | --- | --- |
| | Waistline | Weight |
| XS | 57-63CM | 33-43KG |
| S | 64-70CM | 44-49KG |
| M | 71-77CM | 50-57KG |
| L | 78-85CM | 58-64KG |
| XL | 86-92CM | 65-70KG |
| XXL | 93-100CM | 71-76KG |
| XXXL | 101-110CM | 77-85KG |

Note: The data of the size chart is manual measurement, because there are elastic factors in the material, manual measurement will exist 1-2CM deviation.

Welcome to Simaslim after pregnancy belly corset.As we know, postpartum girdle is very important for maternal.It can protect their viscera very well.Choose Simaslim 3 in 76 postpartum girdle,you will get the best quality,most comfortable post pregnancy girdle and postpartum girdle for yourself. We can offer best and fasest shipping online.
after pregnancy belly corset Reviews
By
Pamela G

I contacted customer service with a quick question and I'm so glad I did! The representative I spoke with, Mily, was outstanding. She double checked that I had ordered the right size and offered me tips on the easiest way to get into the corset as well as the tighty wifey tank. You can tell YoYo really cares about their customers! | Tag:
postpartum bands for tummy
By
Laura Lambert

This postpartum corset is amazing! It is not bulky or noticeable but is tight and secure enough to pull your muscles back together post pregnancy. It is very durable and even held up through many washes in the washing machine! It wears very very comfortably and is not painful like some of the other brands. I love it and recommend it to anyone I know who is pregnant! | Tag:
postpartum compression garments
By
Maybeme

I bought this belly band a few weeks ago in hopes that it would making my recovery from 2 c-section smoother. So far so good. | Tag:
pregnancy recovery belt
material is very comfortable
By
Isela Meraz

Love:Very well made, material is very comfortable, the opening at the bottom made it so easy use.I had a c section and postpartum belt helped me soo much , I didnt feel at all like my guts were going to fall out,it felt like it held me in. I like this after pregnancy belly corset | Tag:
belly wrap to lose weight after pregnancy
By
Nate

I'm 6 weeks postpartum and these waist wraps are really helpful. Not only do they tighten everything, they also provide much needed back support. It does take a while to get used to, I like that there are 3 separate pieces allowing me to mix and match them. The velcro is strong and it doesn't come off once it's on. | Tag:
after pregnancy belt online shopping
Buy 3 sizes larger than you need. Runs insanely small
By
nate arkushon

By
Gregory Rankinon

Always wanted something like this. I tried as soon as I received
By
Sarahon

Great product especially for the price & fast delivery! Product was packaged so professionally from the manufacturer (provided even a shopping bag inside). This product fits me perfectly (I'm a size 2 but gained 35lbs during pregnancy). It came with directions on how to wear :) it has many pieces but that's the purpose to cover all areas of your mid section. Material is nice and soft but still enough stiffness to stick everything and keep in place. Would recommend but I don't think it would fit larger women (ex. plus size), thx! | Tag:
postpartum belt after 3 months
This is not sized right AT ALL! Disappointing, ...
By
Becky Annon

This garment seems fantastic, but I was advised not to wear a ...
By
Bharath Rajasekaranon

By
Amber Myerson

By
p2meon

Fits great and loves what its doing for
By
yaneton

I didn't use this much because it wasn't as necessary as i thought. but it did help keep me from feeling like my belly was a deflated balloon. and it helped my back adjust to breastfeeding with all the bending and leaning i was doing. I imagine this would be a lifesaver for someone who had a cesarean. | Tag:
post pregnancy belly wrap before and after
Had to order twice due to mysterious stain
By
KOVINE VOICEon

Love this especially the pelvis belt... I had pelvis issues while pregnant and this helped me postpartum... I wore it at day 4 pp. Slowly work up to wearing for a period of time because if wore too long it made me bleed a bit heavier then normal. I wore this up walking and sitting down... Just not to bed. I highly recommend this product! | Tag:
c section belly band reviews
Can't bend over in this or it gets messed up ...
By
Purple bananaon

By
Natasha R

I would recommend this for every woman who's had a ba |
Decent support for the price, but a bit complicated ...
By
Peaceloveandabson

I am fairly long waisted but found the comments about it being a bit long have some merit. As do the comments about it being bulky under clothes. I only wore the first 2 and my pants were tight and bending etc. was not exactly easily or comfortably done.I the best after pregnancy belly corset |
Buy it and bring it with to hospital!!
By
natalion

i would usually wear a medium in things and after reading reviews I ordered a Large- day after my csection i could barely get it to come together but it still felt good to have the support-now a week post op It fits fine- still not loose but comes together without to much pulling. |
By
Randompeteon

I started wearing this the day after I gave birth untill he was about 3 months . I do think it helped a lot with helping me "bounce back" as they say . It didnt feel too cheap and actually held up well through washes . I love how al the straps made it super adjustable just in case you needed a little extra something . My only complaint was that after sitting a lot it would start to roll but I feel that may have been more of a personal problem . My rolls were probably eating the thing alive lol .anyway if you want something to help with the postpartum recovery but don't want to pay that high price tag I would reccomed this . |
can leave marks on skin if pulled too tight (suggest to loosen bands for a more comfortable fit for less irritation)
By
Natalie Snyderon

I wouldn't want new moms to overuse this girdle, I would suggest only wearing it during the day or whenever it best helps. It's a good idea to let your tummy and incision breathe a bit or to at least loosen it a lot while sleeping. And consult your doctor about how you should safely use a girdle if you're experiencing a lot of incision pain. |
Great product for the price!
By
leanneon

like it |
Great binder for postpartum
By
thalastjungliston

I haven't started using this but from the reviews, it should be good |
You may also like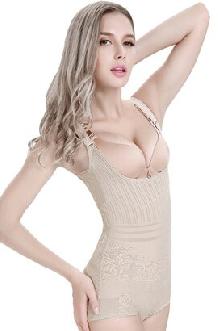 $59.00