Customers Who Viewed This Item Also Viewed
Description

Details

Name:

Best Postpartum Support Girdle

SKU:

WWZL19099-1

For people:

natural labour,Cesarean section,Pregnant women,Need to thin people.

Fabric:

polyester fiber 65% elastic fiber 35%

Thickness:

Moderate

Elastic index:

super elastic

season:

Four Seasons General

Size Chart

| | | | |
| --- | --- | --- | --- |
| | Long | Width | Waist |
| M | 85CM | 23.5CM | 74-84CM |
| L | 95CM | 23.5CM | 84-94CM |
| XL | 105CM | 23.5CM | 95-104CM |
| XXL | 115CM | 23.5CM | 105-114CM |

Note: The data of the size chart is manual measurement, because there are elastic factors in the material, manual measurement will exist 1-2CM deviation.
best postpartum support girdle Reviews
By
olufunke adenekan

The corset is good because it does not roll down. If you are consistent in wearing it the belly goes down. I also recommend that the corset should be worn as soon as one delivers. | Tag:
best belly band post pregnancy
Very like it, soft and strong
By
zoe

stars4 days postpartum and hardly looking pregnant!
By
Rachel Wiebe

4 days postpartum and I already have people telling me that they would not have known that I was pregnant! I feel and look great! Gives fantastic and comfortable support and is well made. Glad that I went with the xs. Fits perfectly on my petite 5 2" body! | Tag:
best post pregnancy band
Received the package fast and in good condition, quality of product is amazing
By
Ambro

This product fit snug and holds in your tummy and makes you feel stable after childbirth. Because the stitching rubbed my cesarean scar, YoYo girdle is replacing this corset without any issue. Although I didn't get much wear out of it, I'm hopeful it will work as described. Received the package fast and in good condition, quality of product is amazing, and customer service is fantastic.I like this best postpartum support girdle | Tag:
abdominal support belt after surgery
starsGood postpartum wrap
By
Kelly

Good postpartum wrap. I wish I got this earlier so I can wear it right after I deliver. The wrap is pretty comfortable, the material is soft, not like the other ones hard as rock. And it has two support bars in the back, the Velcro is very strong too, it holds super well and tight, you can feel the support, tightness but comfortable while wearing it. | Tag:
postpartum girdle comparison
Good quality and perfectly suits the need.
By
fatimaon

and it worked out great, I was able to wear it for close ...
By
Saint Steveon

I attribute my quick postpartum shrinking to this product! ...
By
KB28on

Great product for the price!
By
leanneon

I had a c-section and this binder was great. I was able to walk around without feeling ...
By
Karolinaon

By
Eleanor Chavezon

Doesn't fit right, i have wider hips maybe thats why. And its not meant for sensitive skin either.So great for this best postpartum support girdle | Tag:
post pregnancy belt uk
By
Pamelaon

I am so happy I bought this over other expensive ones. This works great and is comfortable as possible. It bunches a little at times but is easily adjusted. | Tag:
post natal belly tummy support belt
By
lylyon

Buy 3 sizes larger than you need. Runs insanely small
By
raisa Slagleon

I already have 2 similar-to-bella bands from my previous 2 kids but being the disorganized parent that I am couldn't find either one of 'em. Since this one is inexpensive AND has 3 items in one, I decided to purchase it and have no regrets. I used the lower-most on even at the hospital and then a few days after started using the tummy one (haven't used the 3rd since they recommend using it starting week 7). It's comfortable and straight-forward to use - they have brief instructions that were sufficient (you just velcro 'em around yourself). As expected, they're a little bulky so I don't like to wear them when I might see folks that I know. For example, I didn't wear them to a wedding or brunch out over the weekend (my little one is currently starting her 2nd week of life) and definitely noticed the difference. Without them, my core gets worn out real easy versus with it on, it provides me with enough support so that I can kind of get up from bed and definitely can maintain better posture. I don't know about the whole facilitating contraction of your uterus, helping to lose weight claims but it makes sense and given its ease of use and inexpensive cost I say why not get 'em a try. | Tag:
postpartum belly binding after twins
I was able to get it on properly once and felt like I was going to explode out of it
By
Jill Woodon

Postpartum Girdle Corset Recovery Belly Band Wrap Belt is quite comfortable, there is no feeling of repression, from my child after birth, I have been wearing it, and now my body is slowly recovering | Tag:
postnatal tummy corset
Really disappointed. Ordered it too early on
By
Courtney Lewison

This product is poor. I was really excited to get it, however it roles and is not sturdy as it should be. I find myself always readjusting it. |
Useful for back support and reshaping.
By
Annaon

Was great for the first week but mostly got caught on clothes and ruin stitching... Now after a month the belt is pulling on the Velcro and it seems like its gonna come off from the belt.I the best best postpartum support girdle |
Fitted well and help with the loose skin while walking
By
raon

It is very nice and comfortable thanks alot?? |
By
MsNosdnomdeon

I'm a size 12-14 in pants to give you an idea about my waist. |
By
CRISTINA Oon

this product helps Me after I have my ba |
but I had one little complaint which is that after wearing it for about a week and a half some of the edges on the bottom belts started to crease and roll up on me especially if I sat down, squat, or bent over. This is definitely more ideal for walking or standing it gives excellent support. I had a c-section so it was important to find a binder that held everything in place it definitely lessened the pain.
By
Sarah Kon

I love this! I love it you wear it gradually. It really does help my back feel much better. |
I did not like this girdle the best bit I also had a ...
By
Katieon

My wife just gave birth to a child, this is my gift to buy her, she is very fond of her that is very comfortable to wear on the body! |
Fabric is great and sturdy
By
Nathalyon

I bought this to help support my back after post partum. I love all the different panels and how easily adjustable it is! It also helped hold in my abdomen which was a plus! |
You may also like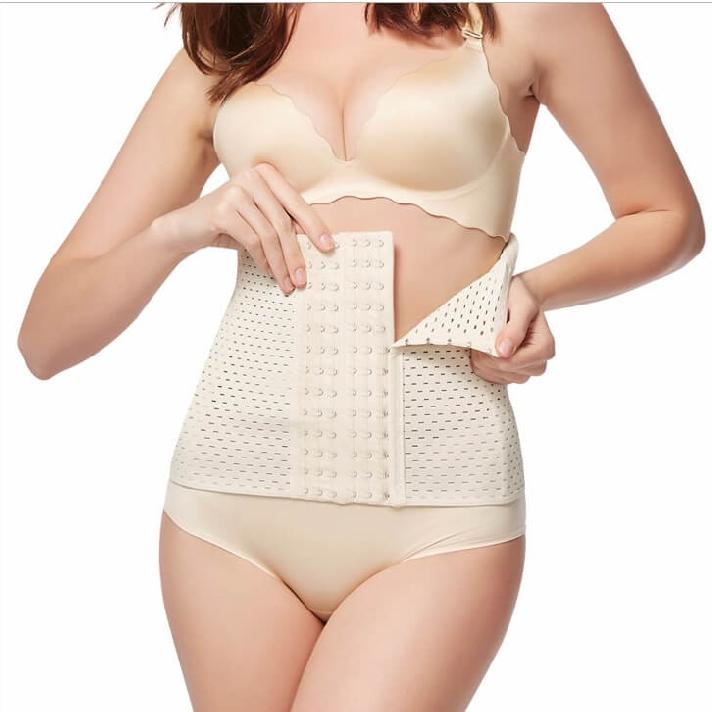 $45.00