Customers Who Viewed This Item Also Viewed
Description

Details

Name:

Postpartum Girdle Belly Wrap Medical Compression

SKU:

HJSY19092

Color:

Black,Nude

For people:

natural labour,Cesarean section,Pregnant women,Need to thin people.

Material composition:

Polyamide fiber (nylon) 80% Polyurethane elastic fiber (spandex) 20%

Sleeve:

Sleeveless

Length:

to the waist

Fabric:

mesh yarn

Material:

Polyamide

Size Chart

| | |
| --- | --- |
| | Weight |
| S | 47-52KG |
| M | 53-58KG |
| L | 59-65KG |
| XL | 66-72KG |
| XXL | 73-79KG |
| XXXL | 80 -85KG |
| XXXXL | 86-95KG |

Note: The data of the size chart is manual measurement, because there are elastic factors in the material, manual measurement will exist 1-2CM deviation.

Welcome to Simaslim postpartum girdle belly wrap medical compression.As we know, postpartum girdle is very important for maternal.It can protect their viscera very well.Choose Simaslim 3 in 72 postpartum girdle,you will get the best quality,most comfortable post pregnancy girdle and postpartum girdle for yourself. We can offer best and fasest shipping online.
postpartum girdle belly wrap medical compression Reviews
Overall good product with some flaws
By
Missy C.

It runs small, so order larger than you think you need. Definitely helps alleviate some of the early back pain and discomfort. Difficult to put it on correctly if you're alone, and it scrunches up a bit of you try to sit down. Overall glad I purchased but I wonder if there may be a better version. | Tag:
belly support band post pregnancy
Needed it for post-surgery support - very glad to have it
By
S.

By
Kirstyn

As a first time mama I recommend this product to all my pregnant friends! I had a very traumatic induced labor (for medical reasons) and once my initial swelling went down a week and a half after birth, I was able to get this on, and I noticed an immediate difference! It's not the comfiest at first but the more you wear it the more comfortable it gets! I wear it a few hours a day and still see results | Tag:
purpose of postpartum girdle
By
Rebekkah Poston

If you follow the sizing guide it fits correctly. I already need to go down a size though so this may not be the best purchase if you want to wear it several months and don't want to buy multiple sizes. Also the item does not come with any directions so you are on your own figuring out how to put it on. You can see it under tight clothing but works well to make your tummy look flat. I have a long torso and would like the item to be longer and cover more of my torso. The item does cover as much of my torso as is shown in the picture so I guess it's supposed to fit that way.I like this postpartum girdle belly wrap medical compression | Tag:
postpartum belt after 6 months
Great for support and posture
By
Laura C.

I just got this for my lower back for support and immediately I felt it help with the pain. I've always had bad posture so I'm hoping this will help train me to sit and stand properly. | Tag:
postpartum support belt for diastasis recti
By
Sherion

Great if you don't care about your clothes.
By
Steveon

It was annoying having to take the pelvic part off every time ...
By
Irma G.on

Since this is adjustable, it fit fine and I was able to adjust it. My issue is that it fell apart after a month. The boning in the back came out and it started riding up to the middle of my belly. It did the job but you will end up having to spend more money on another corset. | Tag:
after c section support girdle
By
Juliana Oliveiraon

but the other two are fine. The bottom one sometime tries to roll a ...
By
Nathalyon

By
Trish Son

By
veronica reyeson

By
A.Greenon

it is so good I've been using it all day long
By
J$Mon

By
Andrew Aon

We purchased this 3 in 1 support and recovery belt set not because my neice is going to be postpartum, but because she is going to need belly belts after her up and coming major abdominal surgery. | Tag:
postpartum pregnancy belt walmart
By
Debbie Ann

This is great in theory, but you can't really breastfeed while wearing it. So I kept having to take it off to breastfeed. And with a newborn, that's every 2 hours...and often times even more frequently when they're cluster feeding or snacking. So it was difficult for me to wear it as required. The first week is not that bad because it's only one band, so you can breastfeed with it on. But as you pile on the bands later, it becomes too difficult to sit and breastfeed comfortably. |
By
jan perreaulton

6 weeks post partum. Wore this starting week 2. It really helped put my organs back in place and helped me see my waist again. It forced me to regain my posture, sit up straight, and pretty much held me upright. I would definitely recommend this to others. I like how it has 3 parts. I am curvy about a size 12 and it fit well. The material is also very sturdy. I have no complaints.I the best postpartum girdle belly wrap medical compression |
By
JPon

Other than that I gave it 4 stars because the belts have given me some results. Along with a healthy diet and exercise I can see my waist and stomach getting back down to size. Also because I believe my concerns to be personal issues and not something really wrong with the belt. |
You may also like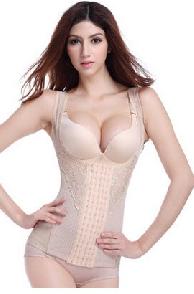 $59.00