Customers Who Viewed This Item Also Viewed
Description

Details

Name:

Post Pregnancy Girdle Reviews

SKU:

MYD189923

Color:

Black, Nude

For people:

natural labour,Cesarean section,Pregnant women,Need to thin people.

Material:

Polyamide

Material Composition:

Polyamide fiber (nylon) 83.7% Polyurethane elastic fiber (spandex) 16.3%

Style:

Hook type

pattern:

plain

season:

Four Seasons General

Elastic index:

high elasticity

Softness Index:

Very good

Breathability index:

very breathable

Size Chart

| | | |
| --- | --- | --- |
| | Waistline | Weight |
| M | 60-70CM | 40-55KG |
| L | 70-80CM | 55-65KG |
| XL | 80-90CM | 65-75KG |
| XXL | 90-100CM | 75-85KG |
| XXXL | 100-110CM | 85-95KG |

Note: The data of the size chart is manual measurement, because there are elastic factors in the material, manual measurement will exist 1-2CM deviation.

We offer the largest selection with over 200+ different styles post pregnancy girdle reviews,our postpartum belly band made of choice material, and we make postpartum corset over 22 years,we are the postpartum shapewear inventor and industry standard maker,choose Simaslim girdle,you will get the best quality,most comfortbale postpartum belly wrap.
post pregnancy girdle reviews Reviews
Works better than other brand
By
SBrandt

Works better than other postpartum belt to me. I have DR of 4 fingers spacing. I use it on weight days, and also when I have to carry heavy stuff. It protects my belly too cuz it's pretty sensitive to the touch. | Tag:
tummy reducing belt after delivery
By
Tonya

The first postpartum girdle I ordered was way too small and was very uncomfortable after having bladder/abdominal surgery but then I received a bigger size and what a difference! It really helps hold in the tummy and it feels much better! | Tag:
compression garment after c section
By
Jenn

I think this product is well worth the money. I decided to try the pull on version of the YoYo girdle because the price difference is quite a lot less than the corset version. I am very happy with this investment. If you have ever worn shape wear before, then you will have no issues with this postpartum girdle. I will say the first time getting this item on is difficult, after that though each subsequent time is much easier. I have seen good improvement in my shape since giving birth and wearing the girdle. I only wear it for about 8 hours a day but I am still seeing results. And it definitely helps with my confidence when going out, as my figure still has a long way to go to return to my postpartum shape. | Tag:
maternity belt after c section
By
JustTryin2Help

However, this is for the lower abdomen. If you are short waisted and want this for that pooch, it is solid. I am unfortunately long waited and have serious belly rolls. I have a 42in waist and bought a XL postpartum belly band. I gave a 5 star because the product is as advertised. Hindsight, I should have measured the length to fit me.I like this post pregnancy girdle reviews | Tag:
belly band for c section recovery
By
Elisia

This was really good at helping get your waist back and especially at making you feel a little better about yourself after having a baby. But mine didn't go high enough.Had it been a bit higher in the back and sides, it would have been perfect. | Tag:
after pregnancy belt reduce tummy online
Fit me well and works great!
By
Heather Popeon

AMAZING support belt. Delivered on time. All pieces fit and comfortable. Pieces are soft and tighten as much as you need, so you get the support. Not painful. My high is 5'4 and weight 150 pounds postpartum. I just got it and wore it for a few hours today and no complains. The product better than expected. The quality is good and the price is nice too. Able to do normal activities. Good Quality but Product runs big for the larger size offered... order the one size fits all if you are under 200lbs. Good back support. Love it. | Tag:
postpartum girdle south africa
Wasn't a great fit directly after birth
By
Amber Kellyon

Within 5 minutes of wearing, got a crimp in the middle and the Large was too large. I'm a size 10/12 preba | Tag:
postpartum tummy tuck belt
Great for price can make very tight
By
ELIZ GONZALEZon

used it since I am still pregnant but looks like it will work great ordered a small I'm usually ...
By
Rose B.on

I purchased these after about a month and a half postpartum to try to bring my belly back in. I have not been as compliant as I wanted to be, but I am appreciative of the fact that you can choose which parts of the band you want to wear, sometimes I use the thinner band for my waist and just the middle size band for my tummy I find that Wearing these two is enough for me. The larger band is just too constricted for my comfort level. But I definitely love the color and I love that it moves with you because it's not just one piece but several small bands put together. | Tag:
post pregnancy belly band ireland
Not what I was hoping for
By
EBon

This fits well, the only problem is that it's hard to sit with on and would curl. Other than that, I like that you can select which one you want to wear. You can wear all three pieces at once or not. | Tag:
tufft post delivery girdle broad
By
ChrissyBon

This shaper is great. My wife bought it using this account and she often wears it.So great for this post pregnancy girdle reviews | Tag:
best post c section belly wrap
By
fabiolaon

The pelvic belt/support is perfect. I have had multiple lower abdominal surgeries and just had another one. This is very comfortable and cannot be seen under clothes. I have also been sleeping in it. Using it for recovery and then for getting back in shape my lower abs later. | Tag:
post c section belly band uk
Good product for the price
By
Mairimon

By
Wendyon

I feel it runs a little small. I ordered a similar product in the same size and it fits perfectly. This one is a little snug. | Tag:
postpartum wraps c section
This is an awesome product. I had a c section and my ...
By
Bernabe Gatoon

Comfortable but fits large.
By
Pianokobeon

I am 5'3, 205 lbs after birth. The postpartum support assisted a lot after giving birth, and assisted with cramping. The section for the pelvis, does not stay in place for me, even though I'm not being active. Throughout the day, there may be some adjusting to get it comfortable again. The ridges leave indentations on the skin, so I put a tank top underneath, that's my personal preference. I'd recommend this support item, because it actually supports, I do see that my stomach is getting slimmer. Uterus has also gone back in place. |
GENIUS DESIGN. SO VERSATILE. PERFECT!
By
Matthewon

It rolls a bit after some extended use but still great for back support pp!I the best post pregnancy girdle reviews |
Great materials seems sturdy thus far.
By
Lexi J.on

Just took way too much time to put on and time is definitely not what a new mom has much of. |
Fits great! I'm 5'8" and 200lbs post partum
By
Megan Lawson

It is ok...did not like much....does not fit properly |
By
C.BERNHARDon

To small only fit on one leg is not fair and I order XL not S |
By
Customer reviewon

This postpartum support is great. I love it's stretch and feel. It really holds the postpartum belly together as you recover. The biggest reason I gave it 4 stars was because sometimes it bunches up, and/or slides up and down as you move about. I HIGHLY recommend wearing it over a tank top or something, which helps a little with shifting. I heard other reviewers say similar things. I have quite a small figure, and I'd say it fits as expected but for me it was just a little big big. I only say it fit as expected because I expected it to be big for my smaller figure. I love having all three pieces together. I feel like I'm wearing a corset. And it's totally adjustable. Two of the pieces have extra elastic strips with velcro to adjust the fit to your shape. Overall, I would buy again |
For reference, I'm 5'6 and was about 110 lb pre-pregnant and after the baby I was 125 lb.
By
sandra sanchezon

I ordered a large however it wasn't big enough. It's too tight to wear for a long time. I'm not even sure if during the time I am wearing it if it works. ?? I kinda think it was a waste of money however hopefully I can give it to someone that will have better results. I'm currently 4 weeks pp. I've been using it since 3-4 days pp. |
good quality and nice faric material
By

|
You may also like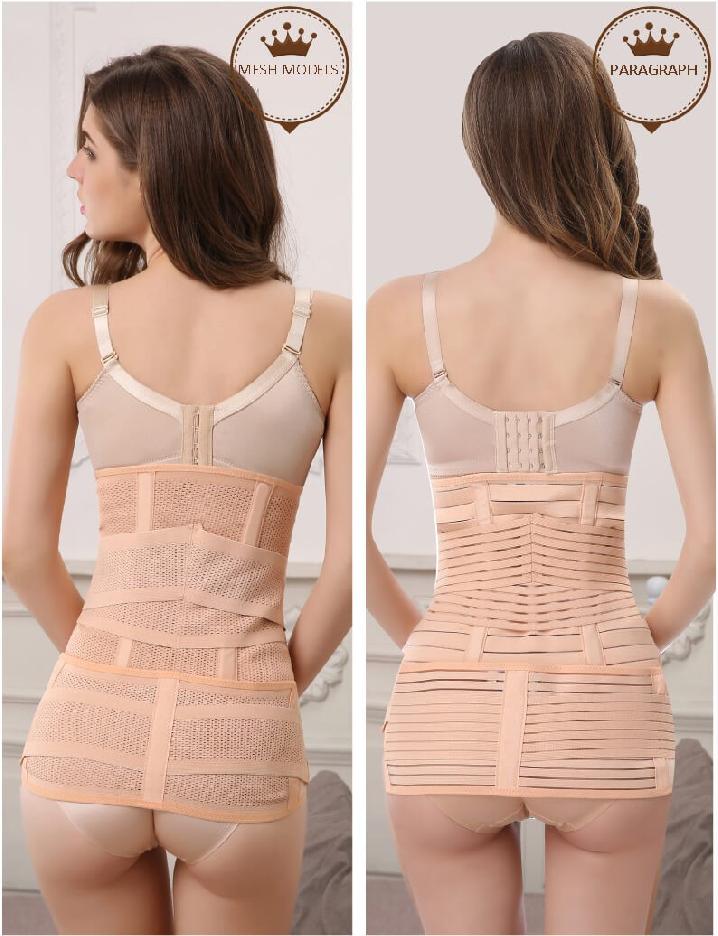 $59.00