Customers Who Viewed This Item Also Viewed
Description

Details

Name:

Belt To Reduce Tummy After Pregnancy

SKU:

HJSY19092

Color:

Black,Nude

For people:

natural labour,Cesarean section,Pregnant women,Need to thin people.

Material composition:

Polyamide fiber (nylon) 80% Polyurethane elastic fiber (spandex) 20%

Sleeve:

Sleeveless

Length:

to the waist

Fabric:

mesh yarn

Material:

Polyamide

Size Chart

| | |
| --- | --- |
| | Weight |
| S | 47-52KG |
| M | 53-58KG |
| L | 59-65KG |
| XL | 66-72KG |
| XXL | 73-79KG |
| XXXL | 80 -85KG |
| XXXXL | 86-95KG |

Note: The data of the size chart is manual measurement, because there are elastic factors in the material, manual measurement will exist 1-2CM deviation.

Simaslim girdle shows fashion collections of current Fashion belt to reduce tummy after pregnancy . You could also find more popular postpartum belts, as there always a huge selection for all abdominal belt after delivery items. Sincerely hope all our customers enjoy shopping our new arrival girdle for stomach with good quality and latest fashion styles.
belt to reduce tummy after pregnancy Reviews
My neighbor recently gave a birth, and I will ...
By
Marcou

My neighbor recently gave a birth, and I will give her a gift to congratulate her. so I bought this belt. I think she will need it. | Tag:
belly support band after c section
By
Jasper

Fit me well and works great!
By
Djstratt

I agree with most of the reviewers that this belt is a very good purchase considering the price and quiality. I ordered a size M and it was tight but i like I still have room to tighten up. I've been wearing it for 5 days and havealready seen a difference. The downside is it has a strong odor at first but it goes away later. And if you have a long torso, it might be a little short for you. None of those bothers me so I still gives 5 stars. For reference, I'm 5'6 and was about 110 lb pre-pregnant and after the baby I was 125 lb. | Tag:
belly support band during pregnancy
material is very comfortable
By
Isela Meraz

Love:Very well made, material is very comfortable, the opening at the bottom made it so easy use.I had a c section and postpartum belt helped me soo much , I didnt feel at all like my guts were going to fall out,it felt like it held me in. I like this belt to reduce tummy after pregnancy | Tag:
postpartum panty with adjustable belly wrap
By
Donald

A bit small, but a good product overall.
By
Rocioon

I really didnt like this girdle the size is way off in my opinion. If its suppose to be postpartum it should not run in pregnancy size. Also it was no longer available for return before i really got to use it. I didnt know Prime was a 30 day return window, So dont buy it before you have the ba | Tag:
surgical binder and abdominal support
Great Support for Healing Abdominal Muscles
By
SCFon

GENIUS DESIGN. SO VERSATILE. PERFECT!
By
H.Perryon

bit larger than I expected however I still got great use out of it for about 6 months after
By
TMarieon

Fits great! I'm 5'8" and 200lbs post partum. Gives great back support and I love the hip band. My only complaint is that you have to wear an undershirt underneath it or it will pinch.. This can be uncomfortable on really hot days. | Tag:
post pregnancy shapewear reviews
I'm pretty neutral on the purchase -- the product basically did ...
By
jd19on

By
Carlaon

This wrap helped my belly go down with a couple of weeks! My Stomach is stretched out badly So great for this belt to reduce tummy after pregnancy | Tag:
tufft post delivery girdle broad
Excellent compression band set -- fits a pre pregnancy size ...
By
Isabellaon

So far I love this product
By
Catherine Campbellon

so I'm disappointed that I can't really use this yet
By
Carolineon

This worked great postpartum! A fraction of the cost as the one in department stores. I would highly recommend! | Tag:
postpartum belly wrap reviews
Great materials seems sturdy thus far.
By
Lexi J.on

By
Mrs.Owenson

I'm happy with the fabric since it's so cheap in price. I'm currently 38 weeks pregnant but I was kind of concerned with it being one size. I stretch edit around my 46' pregnant belly and was able to get it to Velcro without it coming off so I'm sure this will fit me post partum |
GREAT PRODUCT! EASY TO USE!!!
By
Shopping matriarchon

I liked it, it is comfy unlike other support but the only problem is too much steps and 3 pieces, I got confused which is which.I the best belt to reduce tummy after pregnancy |
By
Gena Burnson

The concept seems great it is just too small. You should order two sizes up. |
By
Wendyon

I feel it runs a little small. I ordered a similar product in the same size and it fits perfectly. This one is a little snug. |
for support after abdominal "cool sculpting" and it worked fine. It was a bit bulky so hard to ...
By
S Temon

I ordered this item to help with postpartum recovery after the natural birth of my third child. I feel like this product works as intended. At first, I had trouble getting the velcro around my postpartum belly (2 days postpartum- 160 lbs 5'4). Ba |
You may also like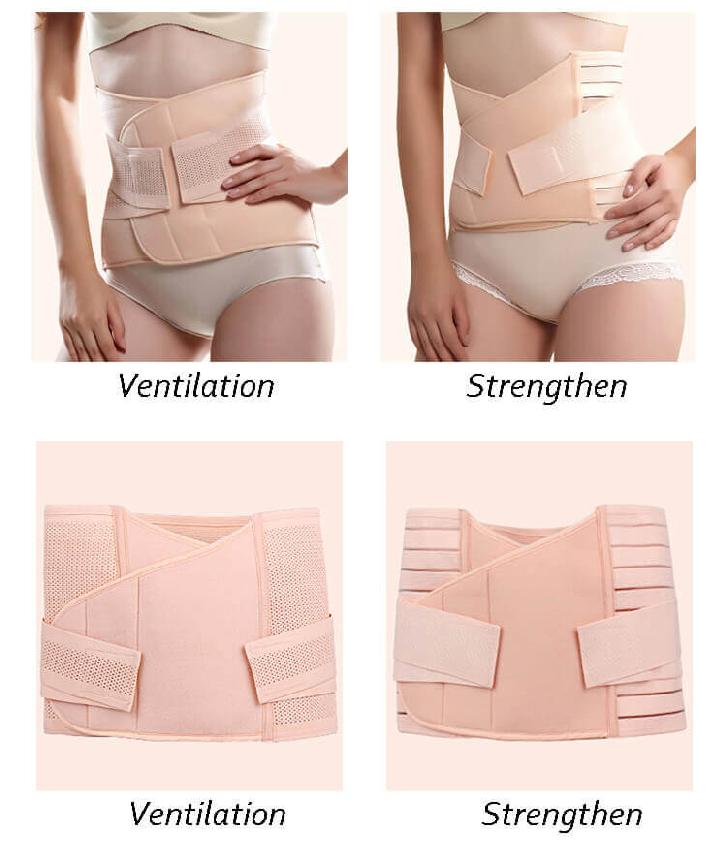 $59.00