Customers Who Viewed This Item Also Viewed
Description

Details

Name:

Tummy Trimmer Belt After Pregnancy

SKU:

HJSY19092

Color:

Black,Nude

For people:

natural labour,Cesarean section,Pregnant women,Need to thin people.

Material composition:

Polyamide fiber (nylon) 80% Polyurethane elastic fiber (spandex) 20%

Sleeve:

Sleeveless

Length:

to the waist

Fabric:

mesh yarn

Material:

Polyamide

Other:

Postpartum Belt in Dubai

Size Chart

| | |
| --- | --- |
| | Weight |
| S | 47-52KG |
| M | 53-58KG |
| L | 59-65KG |
| XL | 66-72KG |
| XXL | 73-79KG |
| XXXL | 80 -85KG |
| XXXXL | 86-95KG |

Note: The data of the size chart is manual measurement, because there are elastic factors in the material, manual measurement will exist 1-2CM deviation.

Simaslim girdle shows fashion collections of current Fashion tummy trimmer belt after pregnancy . You could also find more popular postpartum belts, as there always a huge selection for all abdominal belt after delivery items. Sincerely hope all our customers enjoy shopping our new arrival girdle for stomach with good quality and latest fashion styles.
tummy trimmer belt after pregnancy Reviews
By
Jasper

It is so nice.And it is a little bit tight.But it need tight.I feel very flexible when I wear it.Good and love.Fit as expected. | Tag:
postpartum bands for tummy
By
Melissa H

Not only is the product itself amazing, but the customer service excels anything I could've asked for. I ordered the wrong size and they were soon so helpful in getting the old one returned and the better size ordered. | Tag:
best girdle for after birth
By
Girl Friday

Seven months postpartum here, and I've been using this thing since they day it showed up. I fell much better, all the way around, because my body just wasn't going back into the shape it is supposed to be in. It's especially nice to be able to adjust everything as tight or as loose as you want. My back is feeling better, my hips are even feeling better. Comfortable and easy to wear yoyo postpartum girdle. | Tag:
best girdle for after pregnancy
Good quality, perfect size.
By
Colin

Not yet used, but it looks good quality, flexibility and feel are very good, thanks.I like this tummy trimmer belt after pregnancy | Tag:
post pregnancy support garments
This waist trimmer is awesome. It is visible under clothes so I generally ...
By
Tamia

This waist trimmer is awesome. It is visible under clothes so I generally wear it once I get home. It helps to hold me in while I'm cooking dinner or lounging around the house. Since it is not too tight, I'm able to wear post natal belt while going about my day. I'm 5'5 175 lbs | Tag:
belly support band after c section
By
Cheryl Jacksonon

By
Fakhruddin Lodhion

The package came with instructions. I was relieved to see that because the description didn't say it comes with instructions and the three part pieces made it seem difficult. Once the support band is on, it is bulky. Not flattering at all, lol. It does the job anyway. | Tag:
post pregnancy corset south africa
By
Edwin Bonneyon

This felt really good to put on postpartum and felt like it would really help my tummy flatten and get back to normal. Unfortunately, the more you bend over and move around, the more it shifts and bends and loses the support it had at first. Within a few weeks it had lost most of it's shape and the velcro was fuzzy and not sticking as well. I had to take it off and on over and over again to go to the bathroom, if I was sitting down for more than a few minutes, etc. | Tag:
postpartum recovery shapewear
By
Vanessa Milleron

I got this because I've seen some good reviews, but apparently I should have looked more thoroughly at the other reviews. | Tag:
postpartum shapewear reviews
By
Naziaon

I bought this product when I was eight months pregnant, to use postpartum. I was pretty much guessing at the size, but before I was pregnant I was a small/medium, and from reading other reviews, I decided to go with a size medium. | Tag:
abdominal compression binder after c section
Great binder for postpartum
By
Esmeralda Villalpandoon

Cons: Velcro could be of better quality but it does hold all day. A bit bulky to wear tight fitting clothes. It can get a bit hot wearing this but it's expected since it's another layer of garment that you're wearing.So great for this tummy trimmer belt after pregnancy | Tag:
best belly band for post pregnancy
LOVE it! Wish I had it with earlier pregnancies.
By
Gandaliciouson

The first time I used it, I wanted to wrap it as tightly as I could to make me look thinner, but that wasn't a good idea. Throughout the day it rolled up, and I kept having to adjust it. Even when I adjusted it so it wasn't too tight, it still kept riding up throughout the day, but it didn't bother me too much. Every time I used to bathroom, I just readjusted it. I kept sliding it down because my belly still looked like a pregnancy belly, so I kept this wrapped around where my ba | Tag:
postpartum tummy wrap after c section
By
S.on

By
GrayMatterson

Awesome product it really works . I would definitely recommend this product . The seller was easy to work with and very quick with shipping. | Tag:
c section belly band australia
Good product and reasonable price...
By
Mandyon

It was somewhat snug and uncomfortable to wear at first. But after a few weeks of wearing it for a few hours a day I could tell a big difference in my shape! Now it fits much better and is actually becoming too big. | Tag:
c section compression girdles
By
Ethena Bulgeron

The product was way too big for me. It for like I was over 190 lbs and this one was supposed to be able to fit someone who weighs less |
By
Eleanor Chavezon

This belt worked for first 2 weeks afterwards Velcro won't stickI the best tummy trimmer belt after pregnancy |
I do kit recommend. Super difficult to use
By
Katie Bledsoeon

My wife never looks in a better shape than after putting this on. She is happy. I am happy. Good product. |
GREAT PRODUCT! EASY TO USE!!!
By
Lauren Douglason

Looks just like picture gets the job done and easy to put on would |
By
scarlettmarieon

I love this product because it is very well made, sturdy, and the materials are high quality. I bought it to support my tummy after having an abdominal hysterectomy. It is fabulous for that! I have an incision like a c-section. I only wish I had ordered it sooner. I've only used it for 2 days, but like it so much more than what I was using. I think it would have helped the healing process |
You may also like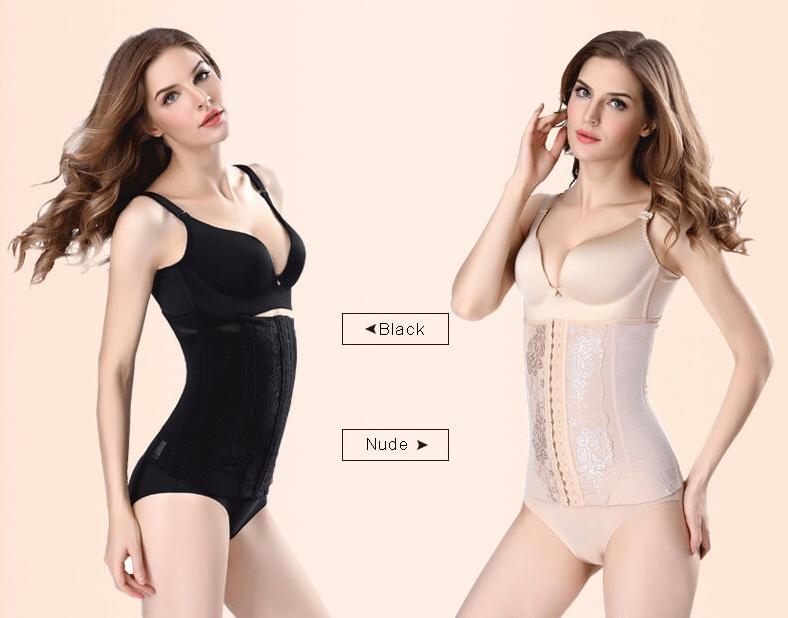 $49.00