Customers Who Viewed This Item Also Viewed
Description

Details

Name:

After C Section Abdominal Binder Belly Band

SKU:

TMJD1903-1

Color:

Black,Nude

For people:

natural labour,Cesarean section,Pregnant women,Need to thin people.

Gender:

Female

Style:

briefs

Waist type:

high waist

Material:

Cotton Content: 81% (including) -95% (including)

Fabric:

cotton fabric

Style:

Sexy

Size Chart

| | | | |
| --- | --- | --- | --- |
| | Height | Waistline | Weight |
| M/L | 155-170CM | 59-80CM | 40-62KG |
| XL/XXL | 160-175CM | 80-100CM | 62-82KG |

Note: The data of the size chart is manual measurement, because there are elastic factors in the material, manual measurement will exist 1-2CM deviation.

We offer the largest selection with over 200+ different styles after c section abdominal binder belly band,our postpartum belly band made of choice material, and we make postpartum corset over 57 years,we are the postpartum shapewear inventor and industry standard maker,choose Simaslim girdle,you will get the best quality,most comfortbale postpartum belly wrap.
after c section abdominal binder belly band Reviews
my friend recommended it to me
By
katy

I bought this product for my mom who also told me that her lumbar discomfort, my friend recommended it to me. After using it, my mother said she felt comfortable which make me fell very pleased. Highly recommend! | Tag:
slimming belt after pregnancy
and really good corset, but breathable material
By
Ashley

This is just as shown, and really good postpartum girdle, but breathable material. Its definitely a tiny bit bulky but with the stomach binding it does its worth it. I use my more sleek adominal bands when im in public and then i use this at home and it actually helps with my back too it supports everything and keeps everything in place, im almost 4 months post partum and had a c-section and this i recommend! | Tag:
tummy reducing belt after c section
By
Emmaleigh Hoard

I like that this postpartum shapewear set cinches your waist and hips, but you can control how much. It is much more flexible and comfortable than other corsets and shape wear that I own. I can wear it in the summer without getting overheated. Would purchase again, and will definitely use if I have another child. | Tag:
bellefit girdle after c section
By
Ja

Very supportive and postpartum belly wrap helps with pain and discomfort.I like this after c section abdominal binder belly band | Tag:
stomach compression garment
By
Rebekkah Poston

If you follow the sizing guide it fits correctly. I already need to go down a size though so this may not be the best purchase if you want to wear it several months and don't want to buy multiple sizes. Also the item does not come with any directions so you are on your own figuring out how to put it on. You can see it under tight clothing but works well to make your tummy look flat. I have a long torso and would like the item to be longer and cover more of my torso. The item does cover as much of my torso as is shown in the picture so I guess it's supposed to fit that way. | Tag:
belt to reduce belly after pregnancy
Great price , great quality just watch out for size
By
Leslieon

By
Jesse's Girlon

good quality. I didn't use it much
By
tlcowson

I have been using this product for a week now. It helps with curving out that water weight in my stomach. I workout everyday, but the extra hold is helping with shaping my stomach. | Tag:
postpartum belly band destination maternity
child I'm fitting in my size 3 jeans just fine, im weighing 155lbs at 5ft 5in one week ...
By
Tina Kon

Fits most small to medium sized people. Amazing price especially considering that you're actually getting 3 binders. I only need to use 2 of them because I have a short torso. I bought this to wear after my c-section 3 weeks ago and it feels so good on. Very supportive and I swear it's made my abdomen less saggy after one day. It is a little awkward to sit in if you're wearing the brace very low as I do to support my pelvis and incision, but that's to be expected. You can't have really good support and a lot of flexible at once. I bought a c-panty and a higher waisted version and had to return both due to poor fit and lack of support. Definitely try this brace first! | Tag:
post pregnancy weight loss band
Holds everything together nicely! I am 3 weeks post partum and I ...
By
Kenia McCartyon

Maybe I'm just trying to use this belt too soon after a c-section, but it seems small and it makes me feel more sore at the end of the day. It is bulky, if you try to wear all three pieces at once. | Tag:
postpartum support belt singapore
By
EPIC

The waist trimmer isn't long enough, which causes my not so slim stomach to roll over the top of it. Extremely unflattering if I wear a fitted or sort of fitted top.So great for this after c section abdominal binder belly band | Tag:
best post c section belly band
Good product. The Velcro does make noise when you ...
By
Triinon

I had the easiest pregnancy and the easiest delivery for my daughter! But postpartum was not so easy. I have had the worst hip pain after her birth. Most days I could hardly walk! After months of chiropractic care and wear this at night I am finally starting to feel better. I only wear the hip part of this support system and I started wearing this 3 months postpartum. (to be honest, I was lucky enough to not need the rest, my stomach went right back to wear it was before pregnancy, flat) | Tag:
postpartum body wrap uk
used it since I am still pregnant but looks like it will work great ordered a small I'm usually ...
By
SNHon

Great buy! I tried a different postpartum support wrap and shrunk out of it within days. Do not let the "one size" make you second guess this purchase. This system will shrink/grow with your size as needed. Easy to put on and tighten to your liking. Felt 100% supported in my back and abdomen. Would definitely recommend this product. | Tag:
tummy belt after delivery online shopping
I believe every new mum needs a postpartum girdle corset ...
By
Kayon

It's a super nice quality and I loved it otherwise
By
HLuvon

I haven't used it really much as I tried and ...
By
Kari Son

Not able to wear it yet because it is too small. I hoping after some of my water weigh and sweeping goes down I can try it. |
By
Robin B.on

Helped with my pp c-section scar significantlyI the best after c section abdominal binder belly band |
Kept my tummy in but caused extreme pelvic discomfort so ...
By
Gonzalezon

Thanks for your understanding and forgiveness. |
By
Gwen Steeveson

SUPERB HIGH QUALITY 3 PIECE ADJUSTABLE BANDS. THIS IS PERFECT WHEN ONE HAS TO ADJUST TO SPECIFIC AREA OF BODY FOR SUPPORT AFTER SURGERY OR EVEN SIMPLE BACKACHE SUPPORT.. |
Good but order your pre-pregnancy size.
By
Gonzalezon

Awesome! Love it! I ordered 2 more! |
You may also like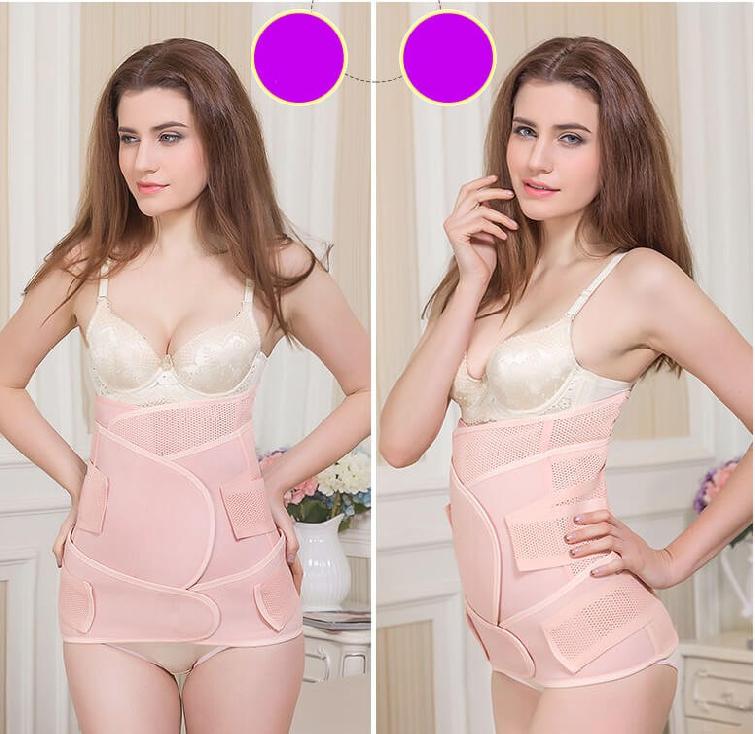 $59.00