Customers Who Viewed This Item Also Viewed
Description

Details

Name:

Tummy Trainer Postpartum Support Belt

SKU:

DBT190882

Color:

Nude,Black

For people:

natural labour,Cesarean section,Pregnant women,Need to thin people.

Material:

Cotton

Pants length:

three pants

Style:

sexy

Waist type:

high waist

Fabric:

mesh yarn

pattern:

plain

Clothing style:

embroidery

Other:

tummy belt after c section delivery

Size Chart

| | | |
| --- | --- | --- |
| | Weight | Waistline |
| M | 40-50KG | 63-67CM |
| L | 50-60KG | 67-77CM |
| XL | 60-70KG | 77-83CM |
| XXL | 70-80KG | 83-90CM |

Note: The data of the size chart is manual measurement, because there are elastic factors in the material, manual measurement will exist 1-2CM deviation.

Simaslim girdle shows fashion collections of current Fashion tummy trainer postpartum support belt . You could also find more popular postpartum belts, as there always a huge selection for all abdominal belt after delivery items. Sincerely hope all our customers enjoy shopping our new arrival girdle for stomach with good quality and latest fashion styles.
tummy trainer postpartum support belt Reviews
By
Himagiri

Holds everything tight and feels good to wear. One complaint is it is bulky and shows through clothes. | Tag:
pregnancy recovery belt
By
Shan

The post pregnancy girdle fits fine I had ordered the wrong size but had no problem when getting an exchange for the proper size with understanding how to properly size the postpartum girdle | Tag:
best postpartum belly wrap for c section
By
Emmaleigh Hoard

I like that this postpartum belt set cinches your waist and hips, but you can control how much. It is much more flexible and comfortable than other corsets and shape wear that I own. I can wear it in the summer without getting overheated. Would purchase again, and will definitely use if I have another child. | Tag:
compression panties after c section
This waist trimmer is awesome. It is visible under clothes so I generally ...
By
Tamia

This waist trimmer is awesome. It is visible under clothes so I generally wear it once I get home. It helps to hold me in while I'm cooking dinner or lounging around the house. Since it is not too tight, I'm able to wear post natal belt while going about my day. I'm 5'5 175 lbsI like this tummy trainer postpartum support belt | Tag:
postpartum panty with adjustable belly wrap india
By
Girl Friday

Seven months postpartum here, and I've been using this thing since they day it showed up. I fell much better, all the way around, because my body just wasn't going back into the shape it is supposed to be in. It's especially nice to be able to adjust everything as tight or as loose as you want. My back is feeling better, my hips are even feeling better. Comfortable and easy to wear yoyo postpartum girdle. | Tag:
post pregnancy belly shapewear
By
Mommy to

Insanely small. If this had fit it would have been torturous to wear, no level of comfort .... Not much else to say. | Tag:
post pregnancy corset belt
So far it's great. I have had it only for a few ...
By
caterina gurrerion

This was so helpful after my c-section. It made recovery less painful and more comfortable. It's also adjustable which was great because I always worry about things not fitting. So glad I had this | Tag:
post pregnancy girdle plus size
I am very happy with the results of using this 3 layers separated ...
By
Kbcaron

Feels so small. I'm 165 and the large feels ...
By
Zena Maldonadoon

I order the size that was suggested through the size chart and I found it small to start but its starting to fit better
By
Juan Mateoon

By
Jacqueline Bon

A little bit worn out after 2 month, other than that, all good.So great for this tummy trainer postpartum support belt | Tag:
postnatal corset malaysia
But other than that i like this product
By
nay linon

By
Foofon

Bought this to help recover after my second child. I was able to get it nice and tight while still being comfortable wearing it for a few hours. It did its job and helped tighten my postpartum belly! | Tag:
destination maternity postpartum support belt
This product works great especially for the price and works well for postpartum/c-section ...
By
B.Hyllandon

Recommend for postpartum mommies
By
cogicladyon

This product is the bomb! First of all, I love the way it holds your stomach and the way you can adjust it to however comfort you want. I had my C-section with my first pregnancy and the hospital used their product which was not bad because it did help with my recovery but the problem is, it actually pushed the bottom part of my belly down, so right now I have a "hanging" belly. Now going on month 4 with my second ba | Tag:
use of post maternity belt
Definitely Recommend for C-Section
By
Ms Eveon

I'm a size 6 prepregnancy and this fit me well after delivery. I think it helped my abs heal back quickly. I don't know if I would recommend this product for larger ladies though. |
Works as long as you follow directions
By
Ajon

Works great. Helps tuck everything in well and you can close it up in a way that doesn't make the velcro part touch your skin which I have had happen with several different similar products. You can also adjust to fit at different forms of tightness which is great as you start loosing weight post partum.I the best tummy trainer postpartum support belt |
Awesome for Postpartum SnapBack!
By
Peaceloveandabson

I used this right after I had my child. I felt like all my insides were falling out and had to be held in. This helped me heal a lot faster than without. I love this product. It offers firm compression or limited compression depending on your comfort level. There are three pieces so it's customizable to your size and comfort. They have the large velcrow strap to hold it in place and smaller velcrow straps you can use to shape your body. Plus, if you wear the straps just right, you can get the hourglass figure under clothes much like a waist cincher. I wear this thing all the time everywhere I go. |
Overall I do like this product and would definitely recommend
By
Deijon

This is confusing to put on, and bulky under clothes. I prefer my other girdles over this. |
By
elijah sheremeton

Does the job just like any other expensive girdle would for the fraction of the price. So far impressed with the quality. |
By
Gregory Rankinon

Take a bit of practice, but love it for corrective surgery needs. |
By
Tera L.on

I haven't worn this a LOT yet postpartum to be honest. It was as described and arrived on time. It's easy to wear and adjust, I bought a small and it's definitely the correct size. Haven't noticed it stretching out but again I haven't worn it as much as I was planning to... I intend to keep for future pregnancies and use again. |
You may also like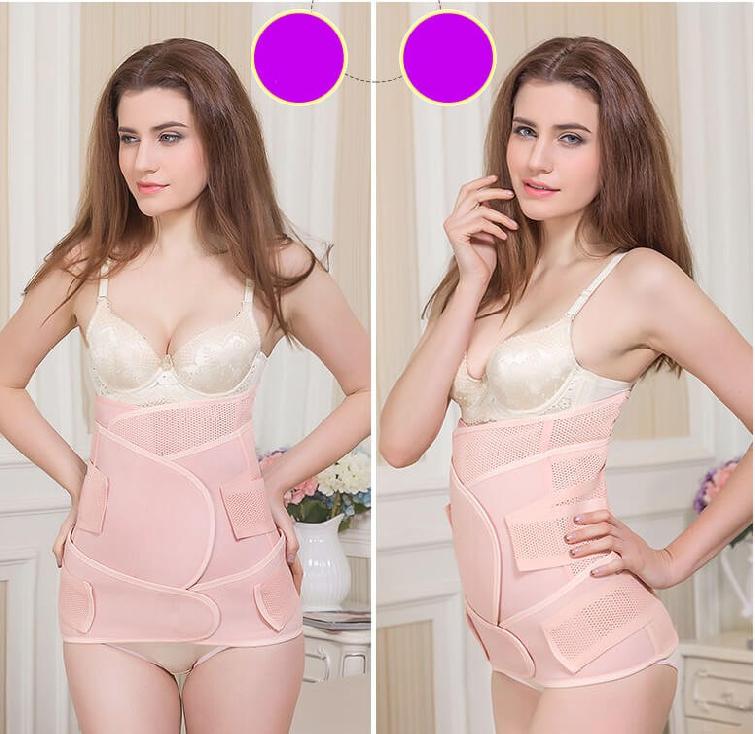 $59.00