Customers Who Viewed This Item Also Viewed
Description

Details

Name:

Belt To Reduce Stomach After Delivery

SKU:

DBT190882-1

Color:

Nude,Black

For people:

natural labour,Cesarean section,Pregnant women,Need to thin people.

Material:

Cotton

Pants length:

three pants

Style:

sexy

Waist type:

high waist

Fabric:

mesh yarn

pattern:

plain

Clothing style:

embroidery

Size Chart

| | | |
| --- | --- | --- |
| | Weight | Waistline |
| M | 40-50KG | 63-67CM |
| L | 50-60KG | 67-77CM |
| XL | 60-70KG | 77-83CM |
| XXL | 70-80KG | 83-90CM |

Note: The data of the size chart is manual measurement, because there are elastic factors in the material, manual measurement will exist 1-2CM deviation.

Simaslim girdle shows fashion collections of current Fashion belt to reduce stomach after delivery . You could also find more popular postpartum belts, as there always a huge selection for all abdominal belt after delivery items. Sincerely hope all our customers enjoy shopping our new arrival girdle for stomach with good quality and latest fashion styles.
belt to reduce stomach after delivery Reviews
starsordered a small and fits great. Live that it stays on and doesn't keep ...
By
eleonora

Works great! Had a hard time finding a good one ...
By
cissy

Works great! Had a hard time finding a good one after giving birth and this one seems to work fine.. it has back support and doesn't roll down like others did | Tag:
abdominal wrap after c section
This is very useful for my waist! I've been wearing it for a month! Feel good! Very comfortable!
By
Lonely

so far my belly has been in a very good shape.
By
Vivian

my OB told me getting one of this, I tried, its a little tight for now. the baby is 17 days old, so I am still recovery. I put on for a hours everyday for 3 days, so far my belly has been in a very good shape.I like this belt to reduce stomach after delivery | Tag:
abdominal belt after cesarean delivery
Great support for mobility post c-section
By
Tyler Judisch

Fits great and loves what its doing for
By
Harrypotteron

Appropriate for the price. Uncomfortable to wear for more than 1 hr or in the sitting position. It starts getting itchy in places. | Tag:
best postpartum girdle to use
It's a super nice quality and I loved it otherwise
By
HLuvon

Great product - I have been using a waist cincher ...
By
Lena Aslanyanon

Very good. Its great for right after you have a ...
By
Andreaon

rolls a bit after some extended use but still great for back support pp
By
Sonia75on

Great belt. Most other ones you just attach Velcro at the front, but I like how these ones have the side straps to tighten extra. Great quality. | Tag:
post pregnancy belt south africa
Great belt. Most other ones you just attach Velcro ...
By
Thanh Phanon

I have yet to try it on as i still have a while till I have my baSo great for this belt to reduce stomach after delivery | Tag:
postpartum belly binding corset
Great for cheaper price, and helpful for c-section recovery
By
Tammyon

Overall good product. Since I have only worn it once ...
By
dejaivonnee benardon

By
Renee Burkeon

I highly recommend this product
By
Kari Klineon

Not amazing. The item pills. The fit is too bulky. Awkward to wear and you need to fully dismantle it to use the bathroom. I rarely wear it now. | Tag:
use of post maternity belt
Hugs all the right places!
By
Kelly Ton

My child wore this bag two times and the strap unraveled from the seam. Poorly made |
Can't bend over in this or it gets messed up ...
By
Nastasia Bentleyon

If you found my review helpful please vote!I the best belt to reduce stomach after delivery |
Great Support for Healing Abdominal Muscles
By
Vanon

Feels great when you put it on! Pinches a little the longer you wear it. It does get warm after you have it on for a bit too. Overall a great way to help heal after my hysterectomy. |
A must have especially for the price! I wouldn't ...
By
tamarasshopon

Good for the price |
Feels so small. I'm 165 and the large feels ...
By
Melon

It fits so well, nice and comfy, only reason why I didn't give it a 5 was cause it didn't have black for my size. but overall it's perfect, it wasn't u comfortable like all the others I have previously worn. Thumbs up for this one. |
second part likes to ride up and can be annoying. But works as expected
By
Thanh Phanon

For the postpartum belly they make weird bulges on the top and bottom since the belt isn't very wild. |
Only comfortable if you aren't going to sit
By
Devion

This is AMAZING for anyone having stomach surgery, plastic surgery, a ba |
BUT I haven't had the baby yet ;) we shall see if these bands are what they are cracked up to be. But it's a quality product, especially compared to more costly bands. And I like that it's 3 different, depending on need or stage of postpartum.
By
Triinon

Fit well. A little itchy for me personally and sometimes hard to put on but it did the job. |
A bit small, but a good product overall.
By
Tanya Sinclairon

Good back support and options to help it fit around one's waistline. |
You may also like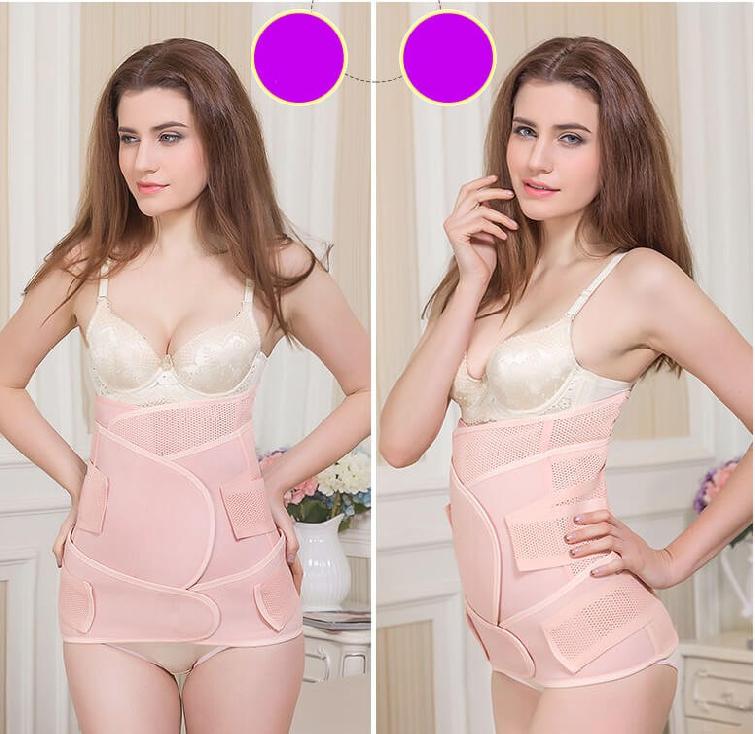 $59.00