Customers Who Viewed This Item Also Viewed
Description

Details

Name:

C Section Postpartum Support Belt

SKU:

HJSY19092

Color:

Black,Nude

For people:

natural labour,Cesarean section,Pregnant women,Need to thin people.

Material composition:

Polyamide fiber (nylon) 80% Polyurethane elastic fiber (spandex) 20%

Sleeve:

Sleeveless

Length:

to the waist

Fabric:

mesh yarn

Material:

Polyamide

Other:

Postpartum Girdle C Section Plus Size,Postpartum Belt C Section Plus Size

Size Chart

| | |
| --- | --- |
| | Weight |
| S | 47-52KG |
| M | 53-58KG |
| L | 59-65KG |
| XL | 66-72KG |
| XXL | 73-79KG |
| XXXL | 80 -85KG |
| XXXXL | 86-95KG |

Note: The data of the size chart is manual measurement, because there are elastic factors in the material, manual measurement will exist 1-2CM deviation.

We offer the largest selection with over 200+ different styles c section postpartum support belt,our postpartum belly band made of choice material, and we make postpartum corset over 139 years,we are the postpartum shapewear inventor and industry standard maker,choose Simaslim girdle,you will get the best quality,most comfortbale postpartum belly wrap.
c section postpartum support belt Reviews
By
Lanai Morriso

Loved having the versatility of this product. I had abdominal surgery and this product was PERFECT for keeping the swelling down! Would recommend over and over again!!! Easy to wash, easy to use, quite comfortable to wear! | Tag:
abdominal belt after pregnancy
Pretty good quality for the price
By
Becky W.

I bought this for abdonimal support after a hysterectomy. It works well. Pretty good quality for the price. | Tag:
postnatal support belt
By
JustTryin2Help

However, this is for the lower abdomen. If you are short waisted and want this for that pooch, it is solid. I am unfortunately long waited and have serious belly rolls. I have a 42in waist and bought a XL postpartum belly band. I gave a 5 star because the product is as advertised. Hindsight, I should have measured the length to fit me. | Tag:
compression girdle after c section
Protect low back and slim waist
By
Leia in LA

Recently, our department needs to help warehouse to tag some boxes and move those heavy boxes. So, I purchased small size for myself. Not only it can good protect my low back, but it also can help me to slim waist. I am killing two birds with one stone, so to speak. :-)I like this c section postpartum support belt | Tag:
post pregnancy belly band c section
I can not sit easily while wearing it
By
tina

Seems to fit well and apears as of it will last. I am using mine to help naturally put back a hernia. I can not sit easily while wearing it. and only wear it at home because it shows through my clothing a bit. However I might wear out when weather cools and thicker clothes can be worn. Great materials. will check back to see how it lasts now. Helps to shrink my belly so far. | Tag:
best postpartum belly wrap after c section
Good quality. I just didn't wear it but once
By
M.Farrowon

By
L.Beaon

A little small but works great
By
Ro

I really don't understand why people would spend close to or more than $100.00 on one of these when this one only cost me $20.00 and it does the job perfectly. I purchased this compression garment after doing research on many different ones after having my first child. It had the same pros and cons in reviews as even the most expensive kind and ultimately I decided to try this one out because it looked most similar to the one that was given to me | Tag:
post pregnancy belt uae
One-size fits all postpartum support belt for waist, belly and pelvis.
By
dianaon

This is absolutely beautiful. I can wear it to go any where I want. The result is fast. highly recomended. | Tag:
postpartum wraps c section
Excellent compression band set -- fits a pre pregnancy size ...
By
Nickon

I had a c-section and this binder was great. I was able to walk around without feeling ...
By
Karolinaon

Love them, bought a second set just to have ...
By
Foofon

The material feels great however, even at its smallest it's too large to actually hold anything in and tighten for me since the Velcro area is not enough. :( | Tag:
post pregnancy belly wrap malaysia
ended up buy a $12 one at Walmart that worked better, and covered my whole belly
By
J and

I like the extra velcro tabs from the back
By
Justine Diazon

Always wanted something like this. I tried as soon as I received
By
Sarahon

Great product especially for the price & fast delivery! Product was packaged so professionally from the manufacturer (provided even a shopping bag inside). This product fits me perfectly (I'm a size 2 but gained 35lbs during pregnancy). It came with directions on how to wear :) it has many pieces but that's the purpose to cover all areas of your mid section. Material is nice and soft but still enough stiffness to stick everything and keep in place. Would recommend but I don't think it would fit larger women (ex. plus size), thx! | Tag:
postpartum girdle medical grade by
By
Cristyon

This product has definitely helped shape me back up postpartum. |
Does what it's supposed to do
By
Nurallahon

I bought it for my wife. She is using it and likes the three parts. She can decide what to use and how long.I the best c section postpartum support belt |
By
Cynthiaon

This postpartum girdle is fantastic. It helped me get moving sooner after delivery. I had a c section so i didnt use the girdle until about a week after delivery. Once I started using the girdle my stomach got flatter everyday. My skin still has some shrinking to do but it definitely helped me feel better and get back to my pre pregnancy clothes quickly. Only gave 3 stars because it is to big now and i wish i had something to support my stomach. |
By
Chelsion

This thing was wonderful for post partum! It brings everything all in nice and tight and you can adjust the tightness of it. I loved this! |
Very disappointed in the longevity of the product
By
Trish Son

Fit ok. But I never use too complex. |
You may also like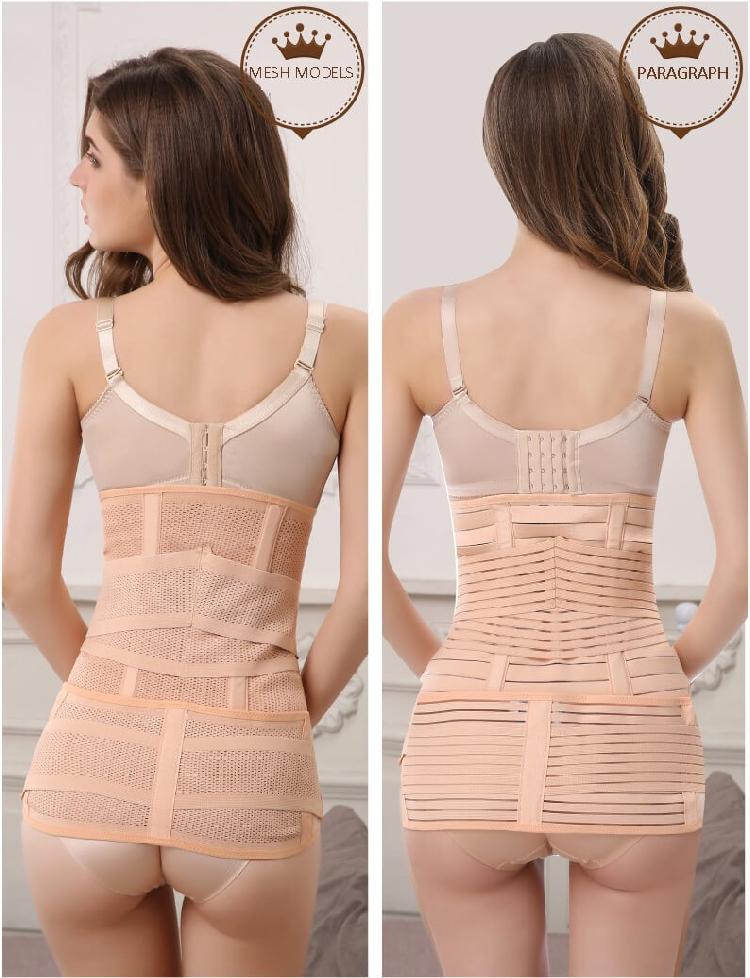 $59.00