Customers Who Viewed This Item Also Viewed
Description

Details

Name:

Post Natal Belt After Pregnancy

SKU:

AZY18993

Color:

Black,Nude

For people:

natural labour,Cesarean section,Shapewear,Need to thin people.

Gender:

Female

Waist type:

shapwear

Fabric:

cotton fabric

Style:

Sexy

Size Chart

| | |
| --- | --- |
| | Weight |
| XS | 45-52KG |
| S | 53-60KG |
| M | 61-70KG |
| L | 71-82KG |
| XL | 83-95KG |
| XXL | 96-105KG |

Note: The data of the size chart is manual measurement, because there are elastic factors in the material, manual measurement will exist 1-2CM deviation.

We offer the largest selection with over 200+ different styles post natal belt after pregnancy,our postpartum belly band made of choice material, and we make postpartum corset over 289 years,we are the postpartum shapewear inventor and industry standard maker,choose Simaslim girdle,you will get the best quality,most comfortbale postpartum belly wrap.
post natal belt after pregnancy Reviews
By
Audrey Whitlock

Bought this to wear post partum and it is absolutely amazing. Quality material and comfortable wear. I bought one in XL, to wear right after birth and one in M to wear as I get back into shape. I wear for 2 to 4 hours a day and my stomach has flattened significantly over the past 3 weeks. A great buy for the postpartum belly wrap price. | Tag:
good girdle after giving birth
I wear a 14 pre baby and after baby this …
By
Kristin D. Sato

I wear a 14 pre baby and after baby this is small it bairly reaches the other side to close it. I wore it today for the first time and postpartum support belt did squeeze me in and seemed to help my back from hurting all day. Just takes a bit of pulling to get it closed | Tag:
use of abdominal belt after delivery
Quality looks good. Will update review after using it for few ...
By
Gyurae Kim

so far my belly has been in a very good shape.
By
Vivian

my OB told me getting one of this, I tried, its a little tight for now. the baby is 17 days old, so I am still recovery. I put on for a hours everyday for 3 days, so far my belly has been in a very good shape.I like this post natal belt after pregnancy | Tag:
waist trainer after giving birth
and really good corset, but breathable material
By
Ashley

This is just as shown, and really good postpartum girdle, but breathable material. Its definitely a tiny bit bulky but with the stomach binding it does its worth it. I use my more sleek adominal bands when im in public and then i use this at home and it actually helps with my back too it supports everything and keeps everything in place, im almost 4 months post partum and had a c-section and this i recommend! | Tag:
postpartum girdle xs
By
numama2010on

I bought it prior to my birth so I couldn't try it out yet. But I like the quality and fast delivery. I read the reviews and it definitely fits till a size 12. I was a size 8 /10 pre pregnancy and now I'm a 12 in my third trimester and I could fit it around my belly. | Tag:
postpartum girdle pros and cons
Useful for back support and reshaping.
By
Annaon

Was great for the first week but mostly got caught on clothes and ruin stitching... Now after a month the belt is pulling on the Velcro and it seems like its gonna come off from the belt. | Tag:
postpartum shapewear for c section in india
By
marielon

If you place it to your panty line like the picture shows
By
Jennyon

Purchased this product after a couple of weeks home from a C-section and additional surgical needs to replace the hospital binder as it started to get too loose on my stomach. | Tag:
post pregnancy belt amazon india
Adjustable, fit every size.
By
Secreton

Can't bend over in this or it gets messed up ...
By
Purple bananaon

I am 5 feet tall and at the time I ordered this I was 128lbs, 1 week after delivering So great for this post natal belt after pregnancy | Tag:
post pregnancy belt price in india
By
S.on

By
Sudhendu Dwivedion

The girdle was perfect. I was skeptical about buying this item at ...
By
BubsRockson

By
Morisonicaon

Great product that actually does what it claims!!
By
Lauren N.

Little bulky but easy to put on and very comfortable. |
Very cheap and gave me a rash
By
Anh P

was was too short and too tight wife hated itI the best post natal belt after pregnancy |
Feels great! Not sure if it helped but sure gave ...
By
zilla sherleyon

I can't wait to use it after having my son thank you |
Great product. It helped me snap back pretty quickly ...
By
Wendyon

Excellent quality. |
but love it for corrective surgery needs
By
Naziaon

I wore this postpartum band for the first three weeks after delivering. I have a 27" waist and it fit as expected although I do wish I was able to make it tighter |
By
RBeckon

I spent SO MUCH TIME trying to find a good post partum girdle - there are so many mixed reviews and fake reviews here on amazon these days. Some are really cheap and others really expensive so I decided to try this one first before going for something super pricey. Well to my pleasant surprise this works great! I have no need to buy another and it's adjustable so it will last for awhile as my waist continues to shrink. The one thing that's annoying is you can't really wear this while sitting down, but that goes for anything similar. I also wish they had it in black as well so it could be more discrete |
two or all 3 pieces for best support and results and you can't beat the price
By
Antonio Funeson

Very useful not just for postpartum support also for those who want to loose weight, if you want to get easily full wear this and support to stomack intack. Very useful there are three kinds of support you can choose to wear. |
Does what it's supposed to do
By
Nurallahon

I bought it for my wife. She is using it and likes the three parts. She can decide what to use and how long. |
Good support for around the house
By
M Dormon

It's a great quality but it was a little to small. I thought it was one size fits all but it's not |
You may also like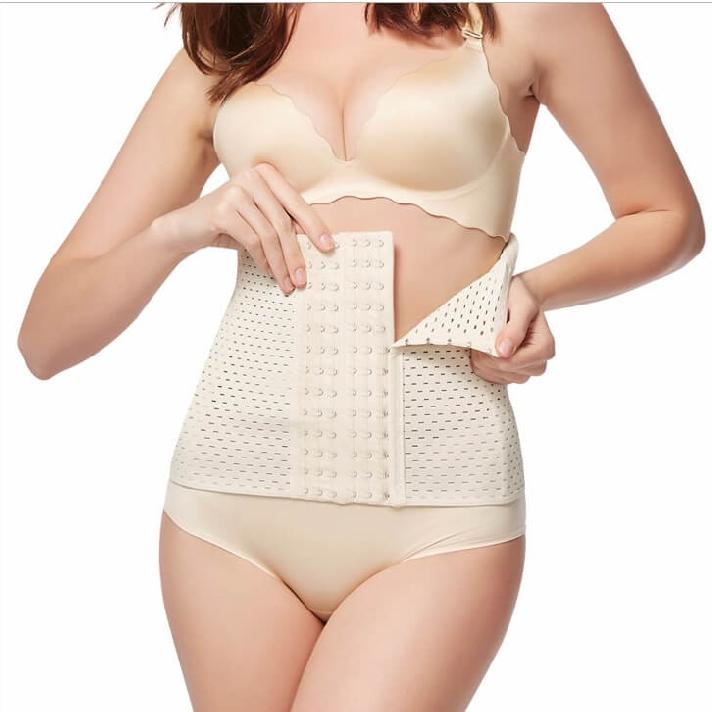 $45.00