Customers Who Viewed This Item Also Viewed
Description

Details

Name:

Post Pregnancy Corset Canada

SKU:

AQS190092-1

Color:

Nude,Black

For people:

natural labour,Cesarean section,Pregnant women,Need to thin people.

Material:

Polyamide

Material composition:

Triacetate fiber (triacetate fiber) 80% Polyurethane elastic fiber (spandex) 20%

Fabric:

mesh yarn

style details:

lace

season:

spring, summer, autumn, winter

Breathability:

breathable

Elastic Index:

very good

Size Chart

| | | |
| --- | --- | --- |
| | Waistline | Weight |
| XS | 57-63CM | 33-43KG |
| S | 64-70CM | 44-49KG |
| M | 71-77CM | 50-57KG |
| L | 78-85CM | 58-64KG |
| XL | 86-92CM | 65-70KG |
| XXL | 93-100CM | 71-76KG |
| XXXL | 101-110CM | 77-85KG |

Note: The data of the size chart is manual measurement, because there are elastic factors in the material, manual measurement will exist 1-2CM deviation.

Welcome to Simaslim post pregnancy corset canada.As we know, postpartum girdle is very important for maternal.It can protect their viscera very well.Choose Simaslim 3 in 87 postpartum girdle,you will get the best quality,most comfortable post pregnancy girdle and postpartum girdle for yourself. We can offer best and fasest shipping online.
post pregnancy corset canada Reviews
By
Wendy

Postpartum Girdle Corset Recovery Belly Band Wrap Belt is quite comfortable, there is no feeling of repression, from my child after birth, I have been wearing it, and now my body is slowly recovering | Tag:
body shaper after c section
Received the package fast and in good condition, quality of product is amazing
By
Ambro

This product fit snug and holds in your tummy and makes you feel stable after childbirth. Because the stitching rubbed my cesarean scar, YoYo girdle is replacing this corset without any issue. Although I didn't get much wear out of it, I'm hopeful it will work as described. Received the package fast and in good condition, quality of product is amazing, and customer service is fantastic. | Tag:
wrapping stomach after giving birth
By
Maria

Makes ur fat roll down from the top. Its good but i only wore it at home and when i was alone lol | Tag:
c section tummy reduction
By
Audrey Whitlock

Bought this to wear post partum and it is absolutely amazing. Quality material and comfortable wear. I bought one in XL, to wear right after birth and one in M to wear as I get back into shape. I wear for 2 to 4 hours a day and my stomach has flattened significantly over the past 3 weeks. A great buy for the postpartum belly wrap price.I like this post pregnancy corset canada | Tag:
maternity belt for back pain
By
5fam

This was recommended by my midwife. It was a little tight to begin with, but within a couple days fit just fine. I bought the XL (I weighed 225 on delivery day). I found this to make the postpartum time more comfortable as I didn't experience the "empty" feeling in my midsection. I felt held together and wore this 24/7. My only complaint is the Velcro doesn't hold up well after a couple weeks of using it, but this was cheap enough that I'm not too worried about it. I noticed it helped flatten my belly and I was in my pre-pregnancy clothes in no time. I recommend it for these reasons! | Tag:
belly support band for running
By
Mackeyon

Good support for around the house
By
Evy_moraon

Hug your body back to one piece after a C-section
By
Kellyon

This one is way better. It is better at pulling everything in and ...
By
Beatriz Umanzoron

By
Pixie4on

I am 5'10" and this product does not cover the full length of my torso/hips as displayed. This causes weird sliding and poor fit when i layer the pieces. | Tag:
tufft post delivery girdle broad
I don't ever like to purchase things online
By
Kathy Ortizon

My wife purchased this after having her second c-section and it has really helped with her recovery. The breathable material helps keep you cool, especially in a hot texas summer. She is 3 weeks post baSo great for this post pregnancy corset canada | Tag:
after pregnancy belt price in pakistan
I really recommend it to you
By
Josh M.on

Very stretchy but still snug like you would want it after a baby
By
American Ginaon

By
Kayla Howeon

My wife couldnt sleep in this. Not able to put it on for +3 hours. I gave it away to my mom because she would use it for different purposes. | Tag:
post pregnancy belly wrap plus size
I like the extra velcro tabs from the back
By
Justine Diazon

By
Linlin Lion

Its uncomfortable to wear because it folds up and pokes you in the rib when you sit. |
great for the price- order a size up
By
lindsey Clarkon

I've paid over $90 for others compression items when I got surgery previously that don't compare to this.. Amazing quality for such a low price .. You can adjust it to squeeze those extra places you need more like your pelvic lower abdomen area .. I used it right after the delivery of my baI the best post pregnancy corset canada |
Good quality. I just didn't wear it but once
By
Fairest1ofallon

Came quickly And fits Well. Recommended:) |
You may also like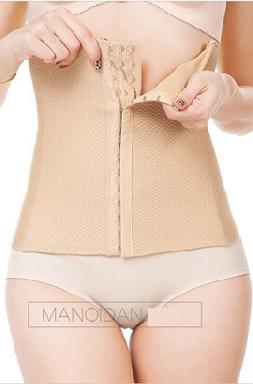 $49.00